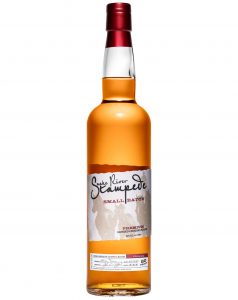 Snake River Stampede
Inspired by and produced in conjunction with one of the largest Rodeos in the world, The Snake River Stampede in Nampa, Idaho. This whiskey was created to pay homage to the Great American Cowboy. This is a blended grain whiskey. It has a mash Bill of 10% rye, 80% corn, and 10% malted barley and is aged 4 years in first fill Bourbon barrels and 6 months in Oloroso sherry barrels. Very smooth, sweet caramel and cherry notes with a light approachable palate. It is best enjoyed around an open fire and under the stars in the sky.
80 Proof / 40% ALC by Volume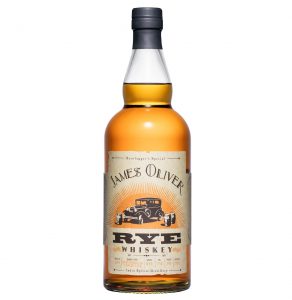 James Oliver Rye
Produced in remembrance of a bootlegger out of Tupelo, Mississippi, James Oliver Rye is a true American Rye. James felt that it was time for a change and arrived in Portland, Oregon in 1942 and took a job on the Willamette River as a welder building ships for the war effort. He is buried here in Portland, Oregon and is the grandfather of one of Rose City Distilling's founders. This is the one and only straight whiskey Rose City Distilling currently produces. The mash bill is 95% rye and 5% malted barley. It is aged in charred (#4 char) new American white oak barrels. The whiskey is sourced as raw distillate from distilleries in Indiana and Kentucky. It comes in as uncut white spirit at 135 proof. We blend down that raw spirits with water to our "barrel proof" of between 122 and 115 proof. Once aged for 4 years we then blend it down to our bottle strength of 100 proof. Whether in a Manhattan or over a big cube, we challenge you to find one better.
100 Proof / 50% ALC by Volume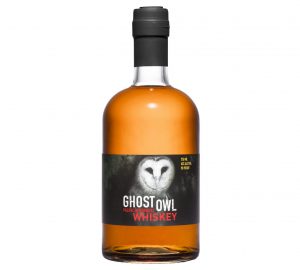 Ghost Owl Pacific Northwest
Originally produced out of a small distillery in Sumner, Washington the Ghost Owl name was inspired by the distiller's experience of walking into a barn at night and seeing the glaring eyes of a large white owl that indeed, looked ghostly. Ghost Owl is a blend of 2 whiskeys; Stampede Whiskey (*see SRS mash bill above) makes up 60% of overall recipe and our 4 yr. old straight corn whiskey rounds out the remaining 40%. The straight corn whiskey is aged in charred ex-Bordeaux wine barrels and has a light creamy flavor with a distinct wine aroma and flavor. This whiskey compliments the Stampede Whiskey very well as they are both finished in wine barrels.
90 Proof / 45% ALC by Volume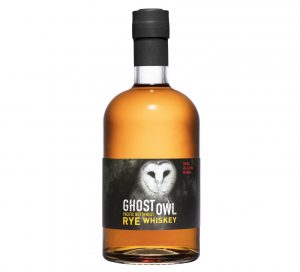 Ghost Owl Rye
The whiskey is the same distillate as the James Oliver Rye but barreled in charred ex-Bordeaux and Burgundy wine barrels which makes for a huge vanilla and caramel nose along with the expected rye herbaceous spicyflavor. The ex-wine barrels provide a wonderful wine finish to an excellent rye profile. Our team's favorite concoction is the Black Manhattan which originated out of the famed Bourbon and Branch in San Francisco. Substitute Vermouth for Averna and enjoy!
90 Proof / 45% ALC by Volume